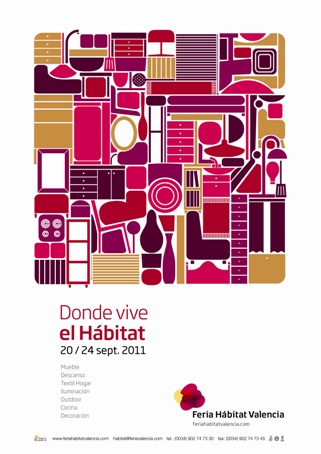 The fair has launched the look for its 2011 edition. Including all the sectors that make up the world of interiors – furniture, bedrooms, home textiles, lighting, outdoor living, kitchens and decor – it it a 'jigsaw puzzle' consisting of a multitude of pieces that fit together perfectly and help underscore the fact that Feria Hábitat Valencia is an integrated show in which each section has its own personality.

The fair's tagline, "Where interiors come alive", aims to reflect the concept of a showcase comprised of exhibitors that support exhibitions where quality, design and innovation come together at a single event – in this instance Feria Hábitat Valencia. This year's show takes place from 20th to 24th September at Feria Valencia and will be targeting both the domestic and the international markets.

The colours reveal and reassert the brand values that create a point of difference – vitality, optimism and a distinctive personality – and reinforce the definition of Feria Hábitat Valencia as the only point of reference both nationally and internationally, for products that are 'made in Spain'

Trust, hard work and unity are the values that underpin this year's fair and they are reflected in the design chosen by Feria Hábitat Valencia. Created by CuldeSac ™ it is an exercise in continuity and strengthening of the existing identity and message.